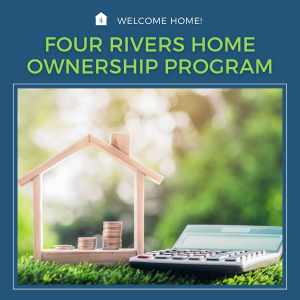 North Central Regional Planning Commission is proud to partner with local banks, economic development groups, and charitable foundations to create and administer the Four Rivers Home Ownership Program. The program offers financial incentives to make home ownership more affordable for current and future residents.
Current Locations
The pilot program in Washington County has closed. Check back for future program announcements and funding opportunities or follow NCRPC on Facebook.
---
About the Program
The program provides $12,500 in down payment and closing cost assistance through a combination of a fixed rate 3% down payment assistance loan of $10,000 and closing cost grant of $2,500.
Program Eligibility
Purchase of a home of $50,000 or greater including existing, manufactured, or new construction.
Financing through a bank with a physical location in the North Central Regional Planning Commission (NCRPC) 12-county primary service area. Click here for a service area map.
Limited funds available on a first come, first served basis.
Borrower must meet bank qualifications for its loan.
Borrower must have 700+ credit score from national credit bureau source.
Home ownership education will be required for first time homebuyers.
Program Benefits
Let our program help make your home ownership dreams a reality. Potential benefits include:
Making home ownership more affordable.
Providing an opportunity for alumni to return to North Central Kansas and enjoy the convenience of living closer to friends and family.
Potentially reducing time/expense commuting to work.
Being a catalyst for someone to buy their first home.
Assisting employers in recruiting/retaining quality employees by helping them becoming more invested in their community and staking roots through home ownership.
Previous Locations
Four Rivers Housing Opportunities previously completed pilot home ownership programs in Dickinson and Washington counties and funds are depleted in those locations. Check back at a later date for more funding opportunities.