2018 NCRPC-NCKCN Banquet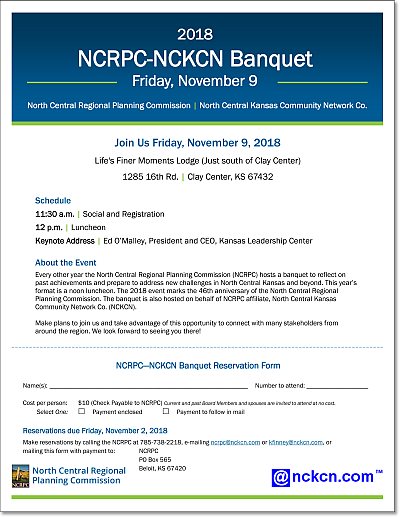 Join us Friday, November 9, 2018 at Life's Finer Moments Lodge located just south of Clay Center, KS, for the NCRPC-NCKCN Banquet. This year's format will be a noon luncheon. The featured speaker is Ed O'Malley, Kansas Leadership Center President and CEO.
11:30 a.m | Social and Registration
12 p.m. | Luncheon and Keynote Address
The public is invited. The cost to attend is $10. Current and past board members and spouses are invited to attend at no cost. RSVP by Friday, November 2. Make reservations by calling the NCRPC at 785-738-2218 or complete the fillable registration form and submit to ncrpc@nckcn.com or kfinney@nckcn.com or mail to: NCRPC, PO Box 565, Beloit, KS 67420.
Events Calendar
To request that a conference, training, or event be listed here, please Contact Us.