The North Central Regional Planning strives to improve the quality of life in North Central Kansas. We are a Regional Planning Commission and Economic Development District with state and federal recognition. The core planning and development area consists of 12 counties and 83 cities in North Central Kansas. The NCRPC also oversees a number of programs that have far reaching impact throughout much of Kansas. With expertise in planning and development for infrastructure, housing, technology, small business, health/safety initiatives, and more, we are here to advance rural Kansas.
Our Mission
Advancing rural Kansas through comprehensive planning and development services.
Our Vision
By 2024, communities in rural Kansas will favor choices that embrace innovation, increase prosperity and demonstrate resilience.
Annual Reports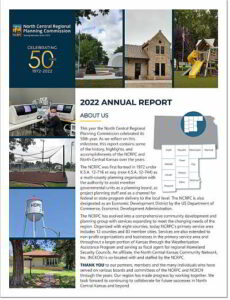 Click on the links below to view annual reports.