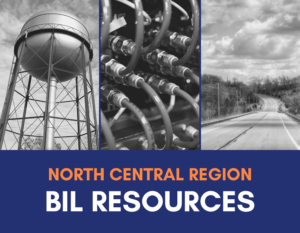 This page is intended to connect North Central Kansas to the Bipartisan Infrastructure Law (BIL) and its potential funding opportunities for the region. Check back often for the latest information.
Newest Information
Project Bundling Workshop
NCRPC hosted a Project Bundling Workshop in coordination with the Federal Highway Administration, Build America Center, and Applied Research Associates on June 1, 2023 in Salina, Kansas. The objective of this one-day workshop was to understand practical application of project bundling between local public agencies to solve infrastructure needs. The workshop was held in-person with several virtual presentations. The draft report is linked below.
Project Bundling Workshop Final Report – DRAFT (PDF, 6.13 MB)
Background
The NCRPC Community Development Department, in a coordinated effort with Kansas Department of Transportation (KDOT), organized an initial Round Table Discussion on August 16, 2022 in Salina, Kansas. The discussion centered around the Bipartisan Infrastructure Law (BIL) and the additional grant opportunities it brings to Kansas and our region. The primary goals of the round table were to increase understanding, identify key projects for regional efforts, and determine next steps with partners. KDOT highly recommends taking a broader/regional approach on grant applications as those will be ranked higher than applications focusing on individual cities or territories. For more information, reach out at the address below.
Stay Informed
The second regional round table discussion NCRPC hosted took place in Salina, KS, on November 15, 2022.  This meeting continued the discussion about the Bipartisan Infrastructure Law and a regional approach to accessing the funds—this time with a focus on Energy, Broadband, and Cybersecurity.
Presentation slides - Cybersecurity (PDF, 360 KB) - Jeff Maxon, Chief Information Security Officer
Presentation slides - Energy (PDF, 184 KB) - Lynn Retz, Kansas Corporation Commission
Presentation slides - Broadband (PDF, 2.16 MB) - Jade Piros de Carvalho, Kansas Office of Broadband Development
Additional Resources
For the latest information on Kansas' approach to BIL and funding announcements, check back to the HUB often. Don't miss the search features under the "Grants" tab in the upper right.
If you are interested in being added to a BIL newsletter from the Kansas Infrastructure Hub, send a request via email to BIL@ks.gov.
With many BIL grants requiring a 20% match, the intent of this fund is to provide matching dollars to Kansas communities that are applying for grants with a match requirement under BIL. Targeted areas for investment include water, transportation, energy, cybersecurity, broadband, and other BIL-identified priorities.
This new portal is focused on smaller projects and includes a great search option based on key word, agency and applicant type. View the Local Infrastructure Hub calendar for additional learning opportunities including webinars.
Sign up for BIL Updates from NCRPC
To sign up for updates specifically on BIL from NCRPC, send an email to Deb Carlson Ohlde, NCRPC Strategic Development Advisor, at communitydevelopmentadvisor@ncrpc.org.