The NCRPC and its affiliate, NCKCN, the region's 501(c)3 non-profit organization dedicated to community development, manage the region's Rural Business Development Initiative (Formerly Tax Credits), designed to benefit 19 counties in North Central Kansas. The program was made possible by the Kansas Economic Growth Act of 2004, which established a tax credit for rural business development in seven designated economic development regions (Northwest, North Central, Northeast, East Central, Southeast, South Central and Southwest) of the state. The Kansas Department of Commerce administers the overall program at the state level.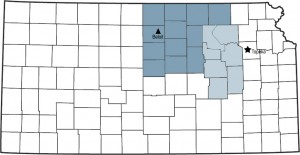 How Do I Apply?
To apply for funding, submit a detailed letter and supportive documentation. It must address the following:
Who You Are
Organization name;
Brief history; and,
Examples of Past projects (if applicable)
Project Description
Purpose of the project;
Goals of the project; and,
Specifically what the funding will provide
Total Detailed Budget – Including all sources and uses of funds
Who Else is Committed to Providing Funding – Provide written commitments of that
When Funding is Needed
If the project is determined to be qualified and of benefit to all or part of the region, additional information may be required.
When May I Apply?
The program currently accepts requests for funding at any time. Keep in mind projects that are deemed worthy of receiving funds will be awarded on a first-come-first-served basis.
Who is Eligible for Funding?
Any project serving business sector or directly or indirectly creating businesses and employment in the following counties: Chase, Clay, Cloud, Dickinson, Ellsworth, Geary, Jewell, Lincoln, Lyon, Marshall, Mitchell, Morris, Ottawa, Pottawatomie, Republic, Riley, Saline, Wabaunsee, and Washington.
Cities, counties, and non-profits are eligible to receive grants or loans or combinations thereof. $50,000 is the maximum low interest loan available for business supported infrastructure projects. A low or no-interest loan project example is a small infrastructure upgrade to support business developments or expansions. $5,000 is the maximum grant possible for business training activities. Cities, counties, non-profits and school districts may apply for these types of projects.
No direct granting of funds will occur to for-profit enterprises. Low-interest loans are possible. NCRPC has a checklist of loan documentation it will provide for these types of projects.
All entities must show proof of organization existence and documentation of its status through the Kansas Secretary of State office.
Matching sources of funding at or greater than the funding request are required in all cases. Written proof of such matching funds is necessary.
Not all projects may qualify for funding even if the applicant is eligible to apply. Examples include a large city/county infrastructure involving significant job creation or retention that is otherwise qualified under federal or state programs. Similarly, for-profit businesses must be able to prove they are not eligible to receive bank financing. If you have questions about whether or not your project does qualify, please contact the NCRPC to discuss your situation. Office staff might know of other funding sources to underwrite your project.
What Type of Projects are Eligible for Funding?
Projects must be able to exhibit some regional impact and/or appeal. Categories under which projects may be funded include:
Leadership Development
Business Service / Technology Access or Development
Job Creation/Retention
To aid possible applicants, the review committee offers the following as examples of the types of projects most likely to receive funding in each category.
Leadership Development Examples
Reaching broader audiences with particular emphasis on crossing typical geographic boundaries
Exposing citizens to a broader, deeper understanding of leadership models and particularly leadership in the regional context
Development of a skill set amongst residents that is transferable to other situations or problems
Activity that includes or targets the attraction and development of youth and/or new leaders
Focus on government or non-profit leadership
Business Service/Technology Access or Development Examples
Benefit provided to more than one business

Experimentation with new, emerging or advancing technology that shows promise for future benefit
Application of technology in a new way
Development of a model for applying technology that is transferable to other industries
Technology that is critical to business retention or expansion

Application of technology that facilitates access to new markets
Job Creation/Retention Examples
Businesses developing a new product or service not yet widely available
Project development that is likely to be a growing industry or market and has potential to continue to generate additional employment
Business that is likely to spin-off benefits to other businesses in the region
Jobs created or retained paying 150% or higher than the current median wage for the area
Projects meeting some or all of the above criteria that are unable to access sufficient traditional finances
What is the Review Process?
Requests for amounts less than $5,000 can typically be approved with staff review, usually within 30 days of receipt. Requests for amounts at or more than $5,000 require board review, which in most cases can occur within 60 days of receipt. Once approved, you will receive a letter of award and/or contract.
Where Do I Send My Application Letter?
Letters may be sent to the following:
North Central Kansas Rural Business Development Initiative
Attn: Doug McKinney, NCRPC Director
109 N. Mill Street, P.O. Box 565
Beloit, KS 67420
Contact
For more information, contact Doug McKinney, NCRPC Executive Director, or call the office at 785-738-2218.