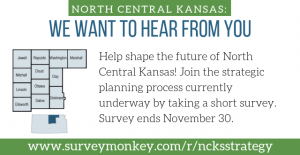 The NCRPC is asking those who live or work in North Central Kansas to take a short survey that will help shape the future of the region and the organization. The following 12 counties are included: Clay, Cloud, Dickinson, Ellsworth, Jewell, Lincoln, Marshall, Mitchell, Ottawa, Republic, Saline, and Washington.
The survey is part of a multi-year strategic planning process that is currently underway. The results will help develop a 5-year Comprehensive Economic Development Strategy (CEDS) for the region. A CEDS is a locally-based, regionally-driven economic development planning process and document that engages community leaders, private sector partners, and other stakeholders in planning for the future. The CEDS is also a prerequisite for Federal designation as an Economic Development District.
The survey is available online at https://www.surveymonkey.com/r/ncksstrategy. It will end November 30.
For more information about the CEDS or the strategic planning process, contact Doug McKinney or Emily Benedick at the NCRPC.
This article appeared in the November 2018 NCRPC Newsletter.