Although the traditional time for "spring cleaning" has passed, planning for a successful community cleanup campaign can happen anytime.
Improving the physical appearance of a community while helping to create a sense of pride among residents is one reason communities host cleanup campaigns, according to Nadine Sigle, Extension Associate for Community Vitality with K-State Research and Extension. Sigle is co-author of a publication that breaks down community cleanup campaigns into seven planning areas. The box contains a list of the key planning areas and a link to the full publication.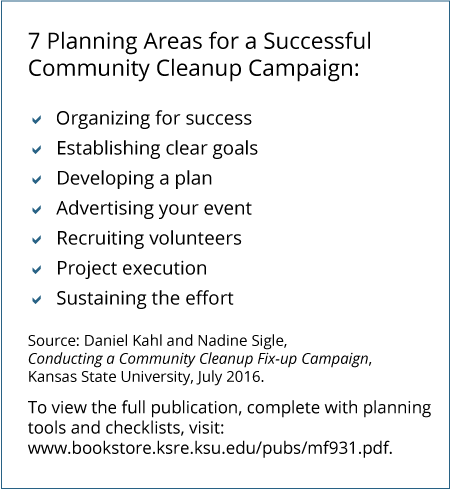 Connecting organizations and resources can increase cleanup impact. For instance, cities and counties may work together to waive landfill fees, local funding sources may provide financial support, or youth may get involved through service learning days.
A recent example of a community cleanup took place in Wilson April 23-May 12. The project was organized by Wilson Economic Development Corporation in conjunction with the City of Wilson. The city received a Community Clean-Up Grant through the Smoky Hills Charitable Foundation with funds from the Dane G. Hansen Foundation. Volunteers removed tree limbs, yard debris, construction waste, and trash at 28 city locations during the two week clean up—totaling approximately 140 man hours. Another 28 man hours were spent handling the paint, tires, and vehicles that were collected.
According to NCRPC Housing Director Carol Torkelson, community cleanup is an investment. "State or Federal funding programs typically are not willing to invest in communities that have not invested in themselves," Torkelson said.
Keegan Bailey, NCRPC Housing Assistant, encourages taking before and after photos and dividing the cleanup into manageable pieces. "It's important that communities see progress and feel good about the work they've done," Bailey said.
This article appeared in the July 2018 NCRPC Newsletter.