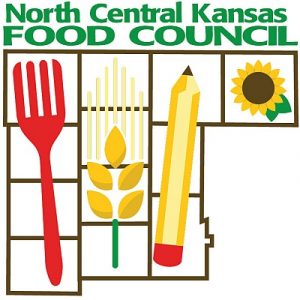 The North Central Kansas Food Council was established in 2017 and is made up of a diverse group of public and private stakeholders in a collaborative effort to advocate for enhanced quality of life for residents through sustainable access to regionally produced food. It was formed as an initiative of the North Central Regional Planning Commission and Live Well Saline County. The NCRPC is the project sponsor. The North Central Kansas Food Council encompasses all 12 counties in the NCRPC primary service area including Clay, Cloud, Dickinson, Ellsworth, Jewell, Lincoln, Marshall, Mitchell, Ottawa, Republic, Saline, and Washington.
Mission
The mission of the Council is to advocate for enhanced quality of life for all residents through sustainable access to regional produced food options, economic opportunity, and educational resources.
North Central Kansas Local Foods Directory
The North Central Kansas Food Council is currently developing a regional directory of growers/producers to highlight local businesses and better connect local food products and consumers. This includes direct sale, CSA, local markets, and processors.
If you are interested in promoting your business, please complete the short form linked below. For questions, please contact nckfc@nckcn.com.
Click to get listed in the NCK Local Foods Directory
Form link – https://bit.ly/37UbVYB
Regional Food System Assessment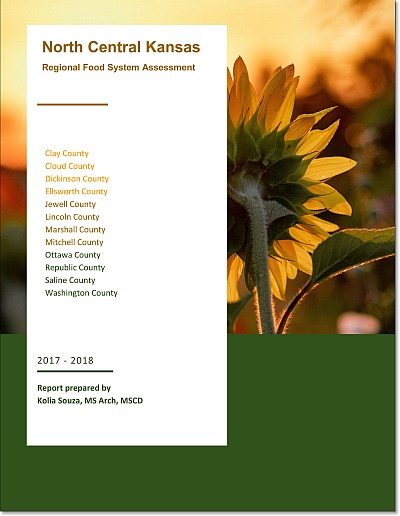 Healthy and robust community food systems help to support and sustain healthy communities and strong local economies. In 2017-2018 the North Central Kansas Food Council contracted with an independent consultant to conduct a comprehensive assessment of the North Central Kansas regional food system to better understand current strengths and gaps. The North Central Kansas Regional Food System Assessment summarizes those results. Reports were also prepared for each of the 12 counties in the North Central Kansas Food Council.
Click to view the county assessments.
Team
Chair:
Brenda Gutierrez – Saline County
Live Well Saline County/Salina Area United Way
Vice Chair:
Ellen Barber – Marshall County
Marshall County Partnership for Growth
Secretary/Treasurer:
Vacant
Michelle Lipker – Clay County
Local Grower
Atalie Tompkins – Dickinson County
KSU Extension Agent; SNAP-Ed Nutrition Educator
Jessica Kootz – Ellsworth County
Midway District Extension Agent; Family & Consumer Sciences
Kerianne Ehrlich – Ellsworth County
Ellsworth County Health Department; RN
Ashley Svaty – Lincoln County
Post Rock Extension District Agent; Nutrition, Food Safety & Health
Greg Renter – Mitchell County
NCK Aware
Leah Robinson – Ottawa County
Central Kansas Extension District Agent; Nutrition, Food Safety, & Health
Luke Mahin – Republic County
Republic County Economic Development

Vacant:
Cloud County
Jewell County
Washington County
Objectives
Increase access to affordable, nutritious and safe food;
Enhance economic development and strengthen local food systems;
Bring stakeholders together and provide mechanisms for seeking advice and expertise;
Effect improvement in the health and well-being of all residents;
Encourage means for small business expansion and or development;
Partner with existing programs in North Central Kansas and state food policy organizations;
Facilitate educational opportunities;
Establish an online presence to educate and connect stakeholders;
Assess and prioritize the needs of the local food system.
Resources
Maps
This map of Kansas Food and Farm Councils is provided courtesy of the Kansas Alliance for Wellness.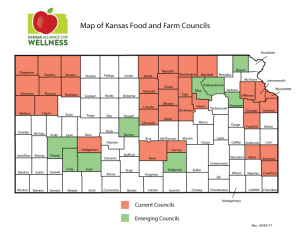 Presentations
Click here to view a presentation from the Kansas Rural Center 2017 Food and Farm Conference.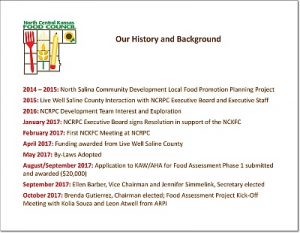 Contact
For more information, visit the NCK Food Council Facebook page.