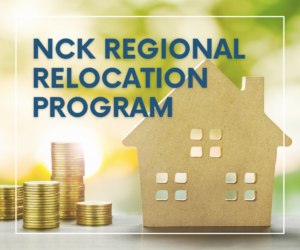 North Central Regional Planning Commission is proud to partner with local banks, economic development groups, and charitable foundations to create and administer the North Central Kansas Regional Relocation Program. The program's purpose is to attract new residents to move to North Central Kansas through a relocation incentive to assist employers in recruiting/retaining employees and provide a housing opportunity for alumni to relocate to NCK to work, start/buy a business, or retire. The program offers down payment and closing cost assistance.
Current Locations
Program update as of January 12, 2023: ALL SLOTS HAVE BEEN RESERVED! A queue has been established for an additional two (2) completed requests having executed purchase agreement with closing date of "on or before April 30, 2023."
The NCK Regional Relocation Incentive is available in the following Kansas Counties:
Cloud County
Ellsworth County
Jewell County
Lincoln County
Mitchell County
Ottawa County
Republic County
Saline County
Program Objectives
Provide a relocation incentive to attract residents to move to North Central Kansas to work, start/buy a business, or retire.
Assist employers in recruiting/retaining quality employees.
Preserve housing quality through home ownership.
Program Benefits
Let our program help make your home ownership dreams a reality! Potential benefits for buyers include:
The program provides $12,500 in down payment and closing cost assistance through a combination of a fixed rate 0% down payment assistance loan of $10,000 and closing cost grant of $2,500.
Improve your quality of life through home ownership.
For alumni – enjoy the convenience of living closer to friends and family.
Program Eligibility
Relocate to an eligible county in North Central Kansas within the past 18 months prior to the request.
Purchase of a home of $50,000 or greater including existing, manufactured, or new construction in Cloud, Ellsworth, Jewell, Lincoln, Mitchell, Ottawa, Republic or Saline County, Kansas.
Financing through a bank with a physical location in the North Central Regional Planning Commission (NCRPC) 12-county primary service area. To view a map, click here.
To Get Started
Contact your local bank located in the NCRPC 12-county service area.
Bankers please direct questions to Debra Peters or Keegan Bailey at homeownership@ncrpc.org.