The NCRPC is committing to partnering with our members and the region as we all respond to the impacts of COVID-19. This resource page provides links and information in one central location and will be updated as needed.
Business and Nonprofit Technical Assistance Update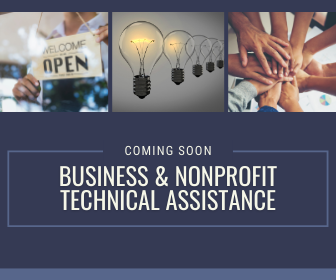 The North Central Regional Planning Commission has received funding to offer FREE technical assistance trainings to North Central Kansas (12-county NCRPC service area) businesses and nonprofits to aid in successful recovery from the impacts of COVID-19. A survey was completed in December 2020/January 2021 to help determine the training topics and tools most needed to strengthen businesses and nonprofits and increase the region's resiliency going forward.
The majority of survey respondents indicated their preference for remote/online group and recorded video trainings. The training topics that ranked the highest were:
Social media marketing/creating an online presence
Website development and maintenance
Online sales/online fundraising
Business training, including: Business continuity/succession planning; Cash flow; Business plan; Accounting and bookkeeping; Budgeting; and Money management
Employee recruitment and board development were also mentioned in multiple survey responses.
We are currently working to coordinate trainings to help address as many of these topics as possible. Additional information will be announced once details are finalized. It is anticipated that trainings will begin as early as May 2021 and be available over the next year.
If you would like to receive information about free training opportunities as they become available, please email us using the contact form below.
If you offer trainings which fall into any of the above categories and would like to be contacted during our RFP process, please let us know also using the contact form below.
Business Financial Resources
Technology Resources
Useful Links/Resources
Contact
The NCRPC, through EDA CARES Act Recovery Assistance funding, will help coordinate a response to the pandemic's economic effects within the 12-county region.
To email us directly, please fill out the form below. Fields marked with an * are required.