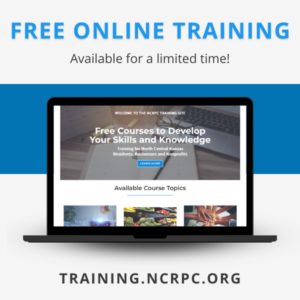 North Central Regional Planning Commission is hosting a training site for a limited time that contains free training opportunities for North Central Kansas residents, businesses and nonprofits. The training was made possible in part, through a U.S. Department of Commerce Economic Development Administration's CARES Act Recovery Assistance grant awarded to the NCRPC.*
Available Topics
The training site contains two completely new courses — a grocery training course and a series on remote work. It also includes some recorded trainings that were offered in 2021 and 2022. These include courses on nonprofit board development and retention as well as courses relating to developing an online presence for your business.
*The NCRPC sponsored a series of free trainings from August 2021-June 2022 for residents, businesses and nonprofits located in the 12-county NCRPC service area in North Central Kansas.

Visit the Training Site
Contact
The North Central Regional Planning Commission can be reached at 785-738-2218.
To email the staff directly about the training initiative, please fill out the form below. Fields marked with an * are required.