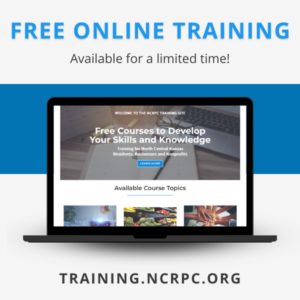 North Central Regional Planning Commission is hosting a training site for a limited time that contains free training opportunities for North Central Kansas residents, businesses and nonprofits. The training was made possible in part, through a U.S. Department of Commerce Economic Development Administration's CARES Act Recovery Assistance grant awarded to the NCRPC.*
Available Topics
The training site contains two completely new courses—a grocery training course and a series on remote work—as well as some recorded trainings from the nonprofit board development series that was offered in 2021 and 2022.
*The NCRPC sponsored a series of free trainings from August 2021-June 2022 for residents, businesses and nonprofits located in the 12-county NCRPC service area in North Central Kansas.

Visit the Training Site
Contact
The North Central Regional Planning Commission can be reached at 785-738-2218.
To email the staff directly about the training initiative, please fill out the form below. Fields marked with an * are required.