NCRPC provides confidential, one-on-one assistance through every step of obtaining financing for your business. It can help you be successful in making a good first impression and in achieving financing for your business.
Loan packaging services includes:
Reviewing the project feasibility to obtain funding to start, expand, or purchase a business at no charge.

Discussing potential local/state/federal programs available to fund the project including eligibility requirements

Preparing loan applications tailored to meet specific program requirements from the data provided by the client for a fee.

Accompanying client to the Lender of your choice and help answer questions.

Answering questions posed by the specific funding program(s).
Why You Need NCRPC
NCRPC can help you be successful in making a good first impression and in achieving financing for your business by helping you evaluate the following questions:
Do you have enough down payment?
Do you have enough operating capital?
Are you asking for enough money?
Have you established a need for your business?
Is the cash flow sufficient to cover taxes/compensation/debt service?
What if you don't have sufficient collateral?
Have you adequately addressed management ability?
Primary Financing Sources Available
Local Lender

Low-interest Revolving Loan Fund Programs

U.S. Small Business Administration Programs (SBA)

StartUp Kansas Loan Program

Kansas Department of Commerce Programs (KDOC)

U.S. Department of Agriculture Programs (USDA)

Economic Development Administr

ation (EDA)
For more information on these programs, click here.
Approval Ratings
We produce results; just ask your local lender. Over the past 15 years our rate of loan approvals has been:

Approval Ratings
Financing Program
98%
Revolving Loan Fund Programs
100%
SBA 504 Loan Program
98%
SBA 7a Loan Program
84%
StartUp Kansas Loan Program
(Competitive Ranking)
100%
CDBG - Economic Development
Fees
Review of loan feasibility and financing options are free.* Upon decision to proceed, a non-refundable deposit is required. An additional fee is charged only if the loan is approved.
*Free assistance underwritten by the Kansas Department of Commerce.

Service Area
Business Finance services are available within a 12-county area of North Central Kansas including the counties of Clay, Cloud, Dickinson, Ellsworth, Jewell, Lincoln, Marshall, Mitchell, Ottawa, Republic, Saline, and Washington.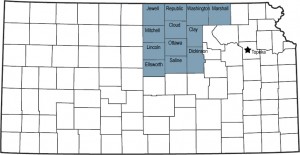 Contact
The North Central Regional Planning Commission can be reached at 785-738-2218.
To email the business finance staff directly, please fill out the form below. Fields marked with an * are required.
Debra Peters – Business Finance Director