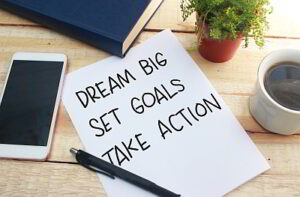 Dreaming big, setting goals, making bold plans for the future — these actions all can play an important role in community or organization success.
NCRPC Strategic Development Advisor Deb Ohlde facilitated a recent goal setting session with Republic County Economic Development board members. This was the second session that Ohlde had facilitated for the group.
"Making goals is one thing, but we really try to make them and utilize these goals," said Jenny Russell, Republic County Economic Development (RCED) Director. "In the last year, RCED has taken the goals from these sessions and put them into our work plans to measure success each month."
Routinely setting goals is beneficial for communities, local governments, and nonprofit organizations. Stepping back to review and update goals regularly is also needed.
"There is turnover in board members or elected officials, a new business comes to the area, staff retires, or a new community key issue crops up," Ohlde said. "Things change and it is important to make sure everyone is on the same page and understands what the community or organization is working toward."
While goal setting approaches may vary, consistency is key.
"I think a formal, longer session with some additional gathering of feedback such as through a survey or a community meeting should happen at least every three years," Ohlde said. "In between time, the board should be reviewing and tweaking goals at least quarterly to make sure they haven't strayed from their work plan and to make adjustments for new circumstances."
Another bonus of goal setting is increased readiness for possible grant funding. As funding sources are rolling out fast with short turnaround times, having projects identified and moving forward is helpful.
Contact the NCRPC Community Development staff to learn more about goal setting meeting facilitation and other customized solutions to meet your project needs.
This article appeared in the Quarter 2 2023 NCRPC Newsletter.