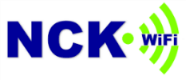 A new NCK-WiFi hotspot was added this summer at the Jamestown city park/baseball fields — bringing the number of NCK-WiFi locations to 16 distributed throughout 7 cities. Plans are underway to continue expanding the network throughout North Central Kansas.
This summer NCK-WiFi is also being made available at many events including the Cloud County Fair in Concordia, Mitchell County Fair in Beloit, the NCK Free Fair in Belleville, and Belleville 150th Celebration.
NCK-WiFi is a free Internet service provided by Cunningham Telephone & Cable (CTC) and NCKCN, a NCRPC affiliate. To learn more about NCK-WiFi and the locations currently available, visit www.nck-wifi.com.
This article appeared in the July 2019 NCRPC Newsletter.