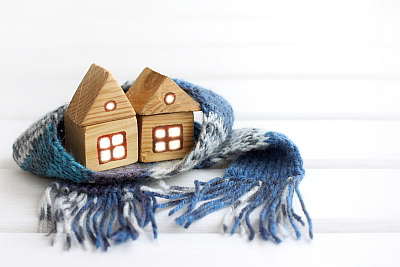 "Lifesaving." That was the single word a weatherization client recently used to describe the help received through the Weatherization Assistance Program. The NCRPC administers the program for 41 Kansas counties.
Edward's central Kansas home had a 36-year-old rusted out furnace that needed to be replaced. His monthly budget was tight after he was forced to retire early due to health issues. When his electric bill became overwhelming, Edward began to seek assistance and applied for the Weatherization Assistance Program.
Weatherization helps reduce energy costs for households by improving the efficiency, health, and safety of their homes. Through the program, a new energy efficient furnace was installed in Edward's home. Other improvements included the addition of 1,384 square feet of attic insulation, 1,058 square feet of sidewall insulation, and other small measures that addressed health and safety concerns.
"Since the work has been completed, the house feels different," Edward said. "It is warmer, and a transformation in overall comfort has been recognized."
His electric bill immediately decreased by more than $40 each month and he is expecting to see bigger savings as the seasons change.
Eligibility for the Weatherization Assistance Program is based solely on income. To view maximum income guidelines or learn more, visit the NCRPC Weatherization page.
Please note that due to program demand, there currently is a wait list for services.
Energy Saving Tips
Winter weather is here! According to the U.S. Department of Energy, home heating uses more energy and costs more than any other system in your home. For energy saving tips, go to the Office of Energy Saver.
---
This article appeared in the Quarter 4 2022 NCRPC Newsletter.