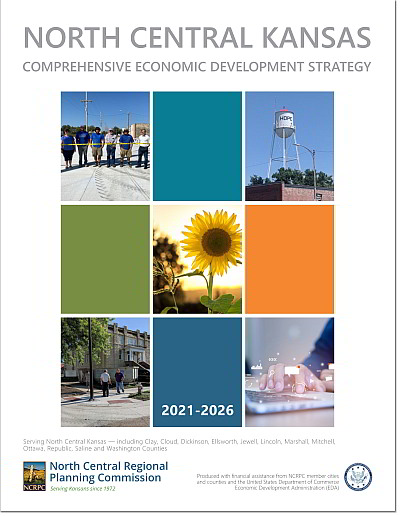 The North Central Regional Planning Commission (NCRPC) is designated as an Economic Development District by U.S. Department of Commerce/Economic Development Administration (EDA) for a 12-county region in North Central Kansas. The counties included are Clay, Cloud, Dickinson, Ellsworth, Jewell, Lincoln, Marshall, Mitchell, Ottawa, Republic, Saline and Washington. As an EDA partnership planning grantee, the NCRPC is an eligible entity for contributing to the development and administration of EDA-funded projects in the region.
The NCRPC is responsible for updating a regional Comprehensive Economic Development Strategy (CEDS) at least every 5 years. This strategic planning process helps bring together many voices from the region to form a common vision for economic prosperity and resilience. In short, a CEDS is a document that serves as a tool to help guide regional economic development efforts.
The Foundation
For nearly 50 years, the NCRPC has been adapting to the continually changing economic and community development needs of the region.
NCRPC's Mission is advancing rural Kansas through comprehensive planning and development services.
NCRPC's Vision is that communities in rural Kansas will favor choices that embrace innovation, increase prosperity and demonstrate resilience.
In order to develop a comprehensive and effective action plan that fulfills our mission and vision, the NCRPC identified five main visions critical to the success of North Central Kansas. The resulting action plan will serve as a guide to work toward achieving the vision, goals and objectives that have been identified to help strengthen the region.
You are invited to join NCRPC and its affiliate, NCKCN, in the efforts to make North Central Kansas a better place to live and work. If you have comments or suggestions, please contact us.