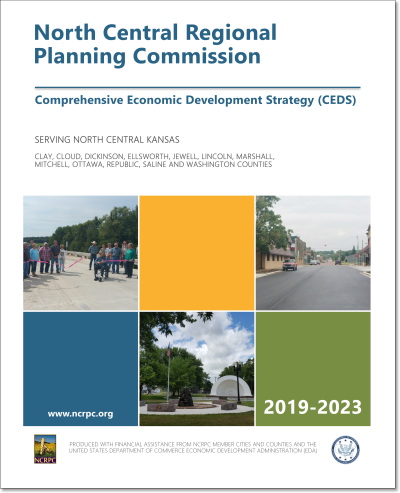 The North Central Regional Planning Commission (NCRPC) is designated as an Economic Development District by U.S. Department of Commerce/Economic Development Administration (EDA) for a 12-county region in North Central Kansas. The counties included are Clay, Cloud, Dickinson, Ellsworth, Jewell, Lincoln, Marshall, Mitchell, Ottawa, Republic, Saline and Washington.
As the administrative arm of the Economic Development District, the NCRPC is authorized to receive partnership planning monies from EDA and is an eligible entity for contributing to the development and administration of EDA-funded projects in the region.
Every 5 years the NCRPC has the opportunity to update its strategic plan for the region. The Comprehensive Economic Development Strategy (CEDS) planning process helps bring together many voices from the region to form a common vision for economic prosperity and resilience.
The CEDS At a Glance
The CEDS helps to build on the strengths of the region, as well as identify gaps in resources or expertise that need to be addressed
The CEDS planning process can facilitate regional collaboration, expand supply chains, and grow and support new industry clusters
With a CEDS in place, regions are more likely to attract federal funds and technical assistance by demonstrating resources are used efficiently and effectively
The CEDS process can make the region more resilient and better positioned to plan for, respond to, and recover from natural disasters and economic shocks
The CEDS can be much more than just a static document, but rather an engaging platform that generates region-wide discussions and serves as a call to action for economic development
The Foundation
For more than 46 years, the NCRPC has been adapting to the continually changing economic and community development needs of the region.
NCRPC's Mission is advancing rural Kansas through comprehensive planning and development services.
NCRPC's Vision is that communities in rural Kansas will favor choices that embrace innovation, increase prosperity and demonstrate resilience.
In order to develop a comprehensive and effective action plan that fulfills our mission and vision, the NCRPC identified five main visions critical to the success of North Central Kansas. The resulting action plan will serve as a guide to work toward achieving the vision, goals and objectives that have been identified to help strengthen the region.
Participation
The 2019 NCRPC CEDS is the result of extensive collaboration among partners and key stakeholders from across the region. The NCRPC appreciates the many partners—cities, counties, nonprofit organizations, businesses, educators, current and past board members, and all leaders and citizens—who have helped in this process to plan and strategize for a stronger North Central Kansas. Some of the key participants include the following:
More than 60 participants in four work sessions in 2017.
NCRPC Executive Board
CEDS Strategy Team
Regional survey participation in 2018 via Survey Monkey. Nearly 200 responses were received.
You are invited to join NCRPC and its affiliate, NCKCN, in the efforts to make North Central Kansas a better place to live and work. If you have comments or suggestions, please contact us.
Produced with funds provided by: United States Department of Commerce Economic Development Administration (EDA)