Topics Cover Remote Work, Rural Grocery Stores, Nonprofits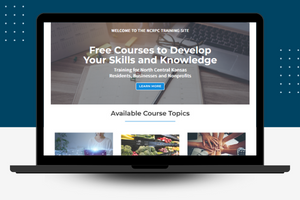 NCRPC is now hosting free, virtual training courses covering a wide range of topics. Courses available on the training website include a remote work series and a comprehensive rural grocery training series. In addition, some recorded nonprofit board development trainings that were offered in 2021 and 2022 are also archived on the site.
These courses were made possible, in part, through a U.S. Department of Commerce Economic Development Administration CARES Act Recovery Assistance grant awarded to the NCRPC.
Learn more and check out what is available by visiting the training site.
This article appeared in the Quarter 1 2023 NCRPC Newsletter.