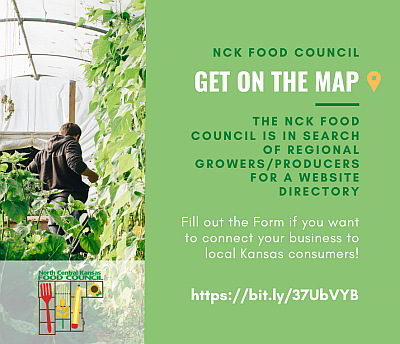 The North Central Kansas Food Council (NCKFC) is developing a regional directory of growers/producers to highlight local businesses and better connect local food products and consumers.
The directory will be used to help promote local foods in the 12-county region the NCKFC serves – including the counties of Clay, Cloud, Dickinson, Ellsworth, Jewell, Lincoln, Marshall, Mitchell, Ottawa, Republic, Saline and Washington. It will also feature local markets, farmers markets, and food processors — essentially serving as a "one-stop shop" to find food resources in the region.
Local growers/producers in the region interested in promoting their business are invited to complete a directory form. The form is available at www.ncrpc.org/nckfoodcouncil.
The project is spearheaded by Taylor Stewart, a Dane Hansen Community Intern with the North Central Kansas Food Council. Her position is made possible through the Dane G. Hansen Foundation and K-State Research and Extension Community Intern program. The North Central Regional Planning Commission collaborates to administer the North Central Kansas Food Council initiative.
"This is a great opportunity for growers and producers to market their business and reach a wider audience of customers while there is growing momentum around local food due to COVID-19," Stewart said. "There have been separate efforts to create food directories in the past, but our goal is to create a comprehensive directory and map specific to the region that is sustainable in the long-term."
Originally from Gardner, Kansas, Stewart graduated from Kansas State University in May with a bachelor's degree in Life Sciences, secondary major in Natural Resources and Environmental Sciences, and minor in Nonprofit Leadership Studies.
"Taylor brings energy and experience in community-based initiatives that are an asset to the North Central Kansas Food Council," Emily Benedick, North Central Regional Planning Commission Executive Director, said. "We are pleased to host Taylor this summer and encourage local growers/producers to reach out to her to be included in the directory."
For more information, visit the NCKFC, contact Taylor at nckfc@nckcn.com, or like North Central Kansas Food Council on Facebook. Stewart's internship ends August 7.
This article appeared in the July 2020 NCRPC Newsletter.