Reactions to August Census Bureau Release of Some 2020 Census Data
By Emily Benedick, Executive Director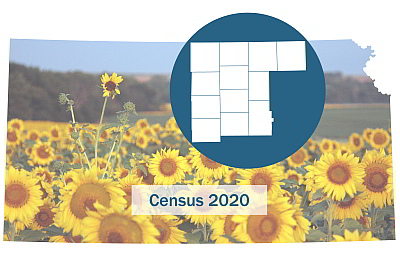 In nearly every conversation regarding the biggest threats to North Central Kansas, "population loss" is at or near the top of the list. The recent survey NCRPC completed about the region's greatest strengths, weaknesses, opportunities and threats provided no exception with "population loss" being identified as the #2 threat to North Central Kansas.
This ongoing conversation about population loss has left many of us on the edge of our seats waiting for the updated census populations numbers to hit our inboxes. Some cautiously optimistic, some holding their breath, it has been difficult to predict if the numbers in North Central Kansas would be favorable or disheartening. In August, these census numbers were finally released. Overall, I have gotten the impression that most of us do not know what to think about the results.
Before I explain my hesitation to take these updated census numbers and run with them as fact, I want to share a snapshot of what we saw within our 12-county service area. On the county level, all 12 counties faced population loss. Since 2010, the total population loss is -4.10% or 5,729 people in the region. The highest percentage of population loss was seen in Lincoln County and the lowest percentage of population loss was seen in Marshall County. On a city level, 15 cities saw population growth:
Wilson – Ellsworth County
Formoso – Jewell County
Randall – Jewell County
Sylvan Grove – Lincoln County
Frankfort – Marshall County
Marysville – Marshall County
Scottsville – Mitchell County
Belleville – Republic County
Courtland – Republic County
Assaria – Saline County
Barnes – Washington County
Greenleaf – Washington County
Haddam – Washington County
Hanover – Washington County
Palmer – Washington County
Sharing the average percentage of population loss among our cities is deceiving as well. Let me explain. A population of 100 who only loses 5 people shows a change of -5.0%; while a larger city of 3,500 loses 150 people but it also only amounts to a -5.0% loss. That being said, across the region, the average population loss in our cities was -8.90%.
When skimming census numbers on a computer screen, there is a lot of negative. There is no denying that official census population loss does have negative impacts on our cities and counties. However, I feel extremely optimistic for rural Kansas based on what many of our cities and counties have experienced since the pandemic.
In 2019, our region had hundreds, maybe even a thousand, homes on the market. Today, most of our cities have less than a dozen homes for sale with many having no open housing options available. Housing availability has taken the forefront as one of the biggest needs in our region. Similarly, we see an extreme shortage of childcare availability. While some factors, such as retirements and state regulations have contributed to this burden, the need for childcare still indicates that young people are growing their families or moving to town. Both of these needs within our region can take a positive spin as definite indicators of population growth! I think it worth noting here that while Washington County saw an overall population loss of -4.64%, 5 of its 9 cities saw population growth!
So, while on paper the population numbers in North Central Kansas may be disheartening, I hope the shift in our focus of overall needs, as well as the growth many have experienced firsthand within our cities over the last 12 months will keep rural Kansas optimistic about our future! We cannot get bogged down and consistently focus on population loss. We must work together to focus on what makes our populations grow and nurture those elements of community that make rural Kansas great! We must look at what is actually happening within our communities and use those experiences to determine success.
This article appeared in the September 2021 NCRPC Newsletter.