Plan Gives Insight Into Building Future Capacity in the Region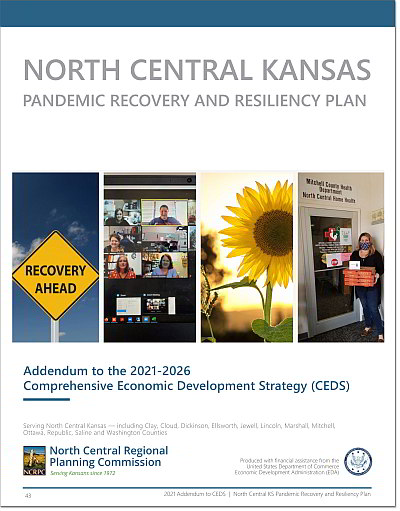 Earlier this year the NCRPC hosted round table discussions with stakeholders in its 12-county service area to determine ongoing impacts from the COVID-19 pandemic.
Discussions focused on the concept of resiliency. What would limit the region's ability to bounce back from hardships? What would position the region for future success? What specific aspects of the region are vulnerable? In addition, participants were asked what they felt were the biggest keys to economic development of the region. Economic resilience defined for purposes of the discussions was the capacity to recover quickly from difficulties; toughness. The description also included an ability to recover from or adjust easily to adversity or change.
Contracted consultant Deb Ohlde facilitated these discussions and compiled the data into the North Central Kansas Pandemic Recovery and Resiliency Plan. It contains a look at the diverse effects of the COVID pandemic and ideas for building future resiliency in the region. Development of this plan was made possible, in part, through the U.S. Department of Commerce Economic Development Administration's CARES Act Recovery Assistance grant awarded to the NCRPC.
At the conclusion of the discussions, 63 individuals were interviewed who lived or worked throughout the entire 12-county region. Multiple sectors of the economy were represented. The NCRPC also conducted a regional survey during a similar timeframe to collect information on resiliency and the impacts of COVID-19.
Survey responses and discussion feedback both documented concerns in three primary areas:
Housing
Childcare
Workforce
Round table discussions bought to light several priority projects related to recovery including the need for government employees to have flexible and up-to-date tools to deliver service effectively in a crisis; daycare is critical to growing the workforce and the economy; and quality, affordable housing is lacking overall. Discussions also highlighted future potential challenges including managing and adequately serving immigrants and mental health concerns. Preparing for these will play an important role in building a more resilient region overall.
View the full NCK Pandemic Recovery and Resiliency Plan.
This article appeared in the November 2021 NCRPC Newsletter.